Cheers to Twenty Years!

I am so excited to be celebrating 20 years in business in 2021! Here's to 20 more…and beyond!
It was fun to look at what was popular back in 2001 when I started my business. The Sisterhood of the Traveling Pants was published, the movie Shrek was released and "Independent Women," by Destiny's Child, was a huge hit. I was trying my hardest to be an independent, money-making designer, but it took a few years to pull that off.
Award Winning Support
With so many businesses shuttered due to the pandemic, I am extremely grateful to have a thriving business. I owe that success to my incredible clients who believe in shopping local, and most importantly believe in me.
Besides winning the support of my clients, I've won a couple of awards over the years as well:
2007 Window Fashions Magazine – Honorable Mention in Designer's Debut
2010 Window Fashion Vision Award – 1st Place in Combination Treatments in the Workroom
Favorite Project Countdown
To celebrate my 20 years in business, all year I'll share my favorite projects by counting them down each month.
Ready?
Favorite Project #1
Marlow's Bedroom: Although Marlow was just a teen at the time, her mother had her work directly with me, which was fun for both of us, and one of the reasons why this was such a memorable project. Marlow created a Pinterest board to get us started and the final project was filled with cheerful blue and lime green prints and a pop of pink. It was a more mature bedroom for Marlow, with a touch of playfulness.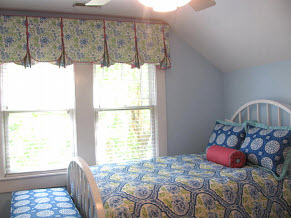 Favorite Project #2
This circus-themed baby's room was a joy to work on, and I loved the challenge of creating the tent! The button and tassel embellishments added so much charm and authenticity to the design. And, don't you think the flag on top adds that extra touch of enchantment?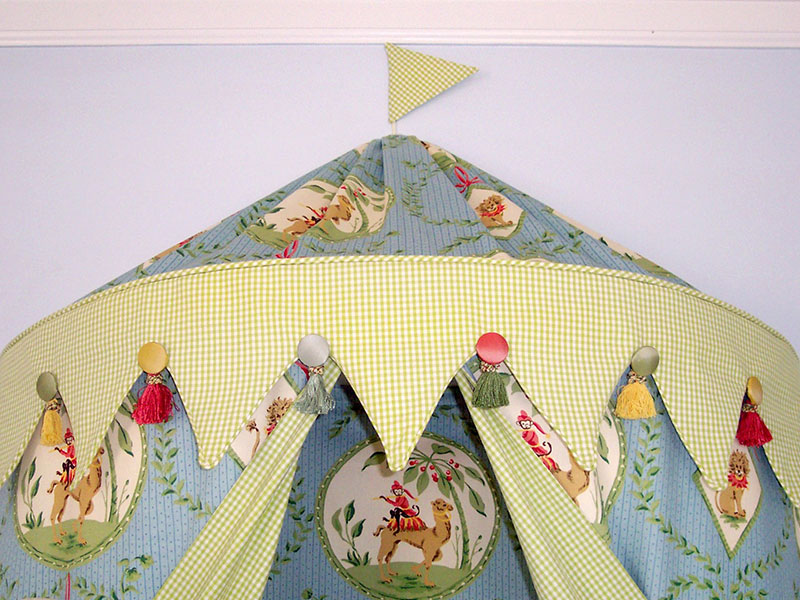 Next month, I'll share one or two more favorite projects.
Knowing that throughout these last 20 years I've helped so many clients make their homes feel more like home—oftentimes their favorite place on Earth—fills me with pride and happiness.
Cheers!
Ronica