I've loved to sew ever since I was a child making Barbie clothes with quite a bit of help from my aunt. I still get that same thrill when I dig into a pile of fabric swatches!
As you know, my love of dressing dolls in my fabric creations evolved into a love of dressing windows, and creating many other home products such as indoor and outdoor furniture cushions, bedding and pillows, and more. That's probably why I love the quote, "My soul is fed with needle and thread."  

Did you know that September is National Sewing Month and July is National Sewing Machine Day? If you've always wanted to learn how to sew, I found a really simple how-to video on YouTube. After you get started, drop me a line at Ronica@ronicascustomcreations if you have any sewing questions. I should be able to help!
I plan to head out to High Point Market in downtown High Point, North Carolina this month. It's the largest furnishings industry trade show in the world, with more than 2,000 manufacturers in 11.5 million square feet of showroom and exhibit space in multiple buildings.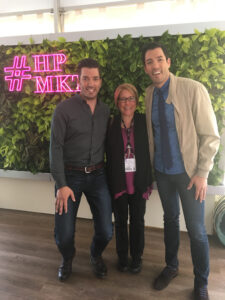 I've been to the Market several times, and once even traveled there with a group on the train. Going to market is very inspiring and motivational. It's a great place to see all of the latest trends in styles and colors. They also offer some get educational seminars from industry gurus.
Surya is one of my favorite exhibits. I like to browse their large assortment of rugs, as well as lighting, accessories, bedding and mirrors.
I also love going to Market Square and the Antique and Design Center. It's such a cool old building! Another one of my favorite vendors is Eastern Accents. They have such beautiful bedding displays.
I've seen some celebrities there, as well. I walked right by Jane Seymour one year and one time Trisha Yearwood did a cooking demo during a Facebook live from the Market.  Afterwards, she treated us to a few tunes.  That was very cool.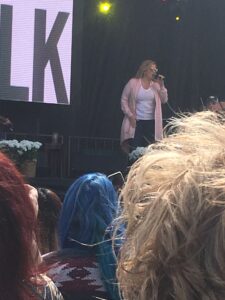 If you ever get a chance to go to the High Point Market, I encourage you to do it. Or, if you want to find out about some of the new ideas I've discovered there, shoot me an email or give me a call.
In the meantime, happy sewing!