Window coverings aren't usually at the top of the list when it comes to spring cleaning, but since I dress windows for a living, and want them to stay as beautiful as the day they were installed, they do make the top of my list. Luckily, they're easy to clean and anyone can do it! 
The Do's 
In most cases, dusting, vacuuming and spot cleaning will keep your window treatments looking great and lasting longer. If you have the time, giving them some attention every time you clean the house will keep the dust, pet hair and grime from accumulating. Less work for you in the long run!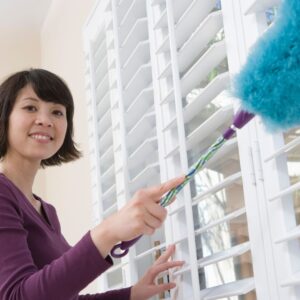 The best way to clean your blinds and shutters is to let them down as far as they can go and close the slats so they're lying flat. Then use a feather duster or soft cloth to wipe them down. Don't forget to dust the back too. I like to run a damp Norwex cloth over mine once or twice a year, especially in high traffic areas like the kitchen.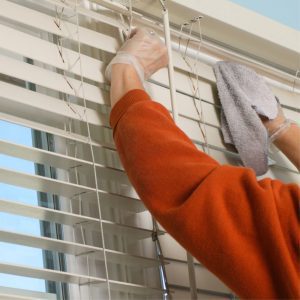 Gently vacuum the front and back of draperies and shades, and don't forget the top where dust accumulates. If you need to spot clean, use a slightly damp cloth with a very mild detergent, or a Norwex cloth like I do.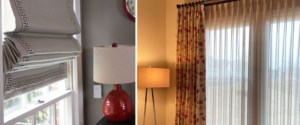 If you have cellular or honeycomb shades, try using a blow dryer on the lowest, cool air setting and blow away the dust that's inside the cells.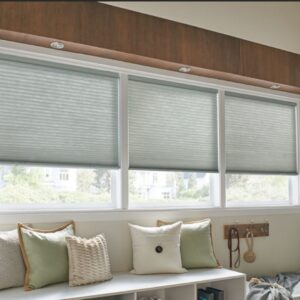 The Don'ts 
I know a lot of people put their faux wood blinds (aluminum or vinyl) in the tub to wash, but I don't recommend that. Once again, a slightly damp cloth works best.   
Using too much water to clean fabric or wood is usually a bad idea. For instance, if you use a cloth saturated in water to clean a fabric shade, it might end up with water stains or discoloration. And wooden blinds can warp if they soak up too much moisture. 
I don't recommend dry cleaning any draperies that have more than one layer of fabric, such as lining or interlining.  
If you have ANY questions about how to clean your window treatments, I'd be happy to help! Just drop me a line.
And while you're in a cleaning mood, this month's newsletter has great information about how to clean the cushions on your outdoor furniture, even those white cushions that scare us a little! 

 I hope you enjoy the spring, if not the cleaning part!