We all know that window treatments are an essential part of our décor, for privacy, light and temperature control. And, of course, they bring much more style to your space. But, why stop there? Why not take your window treatments to the next level with a customized layering effect?
Now you're probably asking: where do I start?
Well, the first thing to remember is that you still want the street-facing side of your house to have curb appeal, so choosing a uniform base layer is a good idea. For instance, blinds or shades in the same color look symmetrical from the outside. The house below on the left looks much more uniform with all blinds, than the house on the right with drapes and shades. There are loads of options for that base beyond a white blind—Roman shades, roller shades, cellular shades, woven woods, plantation shutters, and the list goes on! You'll have even more options for the top layer!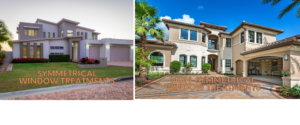 As always, before making any decisions, you should think about what you want to accomplish with your window treatments. Do you want the ability to block out light in the room? Do you want more control over the temperature? Do you want the room to look elegant, playful, maybe bigger?
These first examples of window treatment layering incorporate a valance over a shutter and a blind. Both rooms needed a pop of color, and the shutters in the living room on the left will allow for privacy at night, as well as control over any light coming in from outside.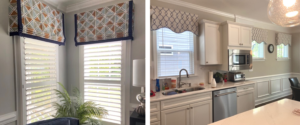 Panels are also a great pairing with shutters. The dining room on the left needed an extra touch of color and texture, but adding drapes to the smaller side window would have been too much. And don't those drapes in the kitchen really add personality to that space?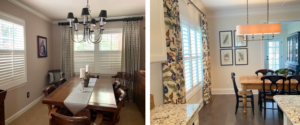 Do you have an annoying street light glaring into your bedroom window at night? Layering Roman Shades over blinds will give you much more light control. It also adds an attractive decorative element that softens the room.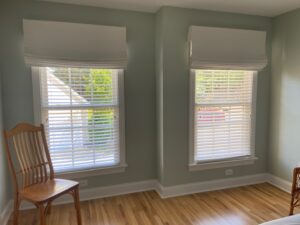 Roller shades function well and look great on their own, but adding a cornice board completes the look in the before and after photos below. This cornice board adds height to the windows and hides the hardware too.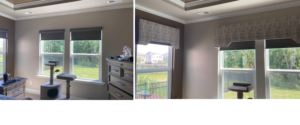 A cornice board dresses up the eating area below.  The cellular shades provide privacy and light control.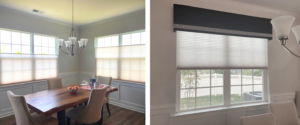 Isn't the dining room below elegant? We dressed up a light filtering roller shade with drapery panels and a valance.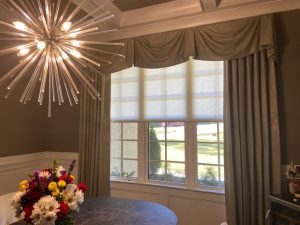 I'm often asked what the difference is between a valance and cornice board. A cornice is fabric fastened, or upholstered, to a board and has a more permanent and structured look, while a valance has flowing material like drapes, but only extends about a foot below the top of the window. They're both decorative elements that can also hide hardware.
Woven woods are beautiful on their own, but why not kick it up a notch with decorative side panels?
The most classic technique is layering drapes over sheers. That will give you the option to close both layers for more darkness and temperature control, or open up the drapes to let the light filter through the sheers. And, of course, that makes me dream of spring and opening the windows so a gentle breeze can flutter the sheers. Ahhhhh…
Another great pairing is the one below with functional sheers and stationary side panels– when you need a little extra color or texture to jazz up your space.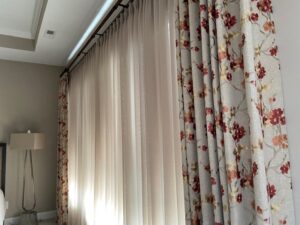 The bedroom below utilizes shades, a valance and stationary panels—what a perfect combination!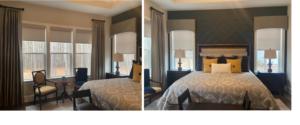 Are you inspired yet? These are only a small example of how you can layer window treatments. Let me know how you want the room to feel and I'll walk you through all your options.