Isn't it crazy that The Jetsons had one of the first smart homes, filled with wall devices that could control everything with a touch of a button? Those creative ideas were developed in 1962 and the Jetson family was living 100 years into the future. I loved watching reruns!
Back then, the thought of video chatting one day seemed so cool, yet unimaginable. Everyone remembers Rosie the Robot, who was a lot more fun, but not necessarily more efficient, than a Roomba. There was even an episode when a student in Elroy's class watched The Flintstones on his wrist TV, which was very similar to today's Apple Watch. Now I have that song "Eep Opp Ork" in my head!
Today's Smart homes have the potential to make our lives just as effortless as Jane Jetson's—maybe more so! Especially when it comes to our window treatments, thanks to motorization and automation technology.
So, let's get right to the point. What could be better than pushing one button to close all your window treatments at once by utilizing motorization? Talk about saving time! Or better yet, telling Alexa to close all the shades.
Wait, maybe you don't want to close everything. Well, you can pre-program all of your preferences with automation. Open the bedroom blinds at 7:50 a.m. every morning to let the morning light gently wake you up. Much nicer than that annoying beeping sound! Close the great room drapes at 8:00 p.m. so the neighbors can't see into your house.
We installed the motorized roller shades below in a primary bedroom. They provide privacy and light control. Can you imagine waking up to this gorgeous view every day? You could just roll over in bed and press a button, or pre-program the roller shades to serve as your alarm clock.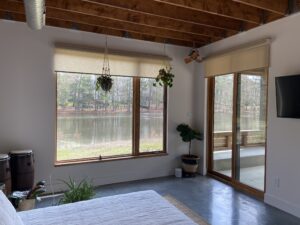 Another great advantage of having motorized window treatments is when you can't reach the treatment to adjust the light. Have any really tall windows, or window treatments over the tub or kitchen sink?
Motorization is perfect for wide windows. The drapes below are hanging on a motorized traverse rod. The motor is completely hidden by the drapery panel. The drapes travel along the path quietly, with a gentle start and stop that's super smooth.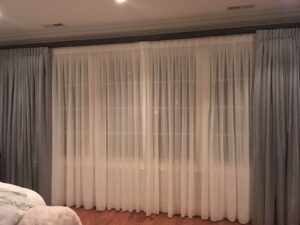 With our busy schedules, it's hard to remember to close our window treatments to protect our upholstery and artwork from the sun's harmful rays that cause fading. And who has the time to go around closing all those shades during the sunniest part of the day? Once you program the automation, you can cross another task off your list.
Maybe in the summer, as the heat builds, you want to cool down the house before you get home from work. Or you want to manage heat loss in the winter. Use your smart phone to tell your "smart" window treatments what to do.
Do you usually leave a light on, or program your lights to go on and off while you're on vacation? You can add an extra layer of protection by automating your shades to go up and down too. There's even a solar powered option. Below are the roman shades in my living room, which are fully automated.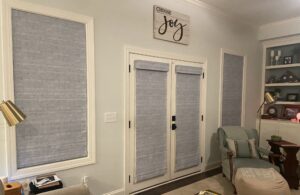 Motorizing your window treatments is a safer way to go too because there are no cords for your children or pets to get tangled in. According to the U.S. Consumer Product Safety Commission (CPSC), corded window coverings are one of the top five hidden hazards in American homes.
For all the reasons above, motorizing your window treatments is an investment in your home, and they'll make your home more valuable when you sell.
One of the motorization products I prefer is the PowerTouch, pictured below. With this option, you can set up your "favorites" for each window treatment. Then, with the touch of a button, you can raise, lower and tilt to the perfect position—no more inching the shades up a little, then down a little to find the same place they were in the day before! And you don't have to worry about changing the batteries because the PowerTouch uses a rechargeable battery.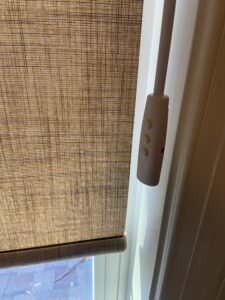 If you're at all intimidated by your capability to set up your favorites or operate these new window treatments, don't be. They were designed to make things easier on you, not harder. I'll walk you through the entire process and will always be available to answer questions. You know where to find me to learn more about all the motorization options available.