When people ask about roller shades, I always say it's "not your Grandmother's roller shade."  Remember the white vinyl shades that always seemed to get stuck halfway up or down? Or you'd keep pulling them lower and lower to try to get them to roll back up? That spring roller never worked quite right. 
Well, roller shades have come a long way! First of all, they work MUCH better. They come in HUNDREDS of design and color options with great TEXTURES and PATTERNS that will work well in any decor.
There are light filtering or room darkening options and they look great with a decorative valance or cornice board as well as drapery panels, and accents like fringes, scalloped edges and decorative pulls. Roller shades are very popular right now!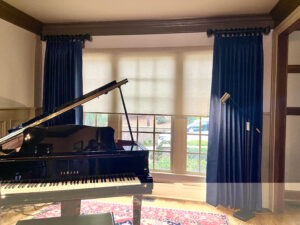 Roller shades can be motorized with automation–you set the time you want them to open and close. That's a great way to keep your house secure when you're on vacation.
You can get rechargeable motors–plug in or solar charged! What could be easier than that?
There's also the power wand option, where you just touch the button on the rechargeable wand and walk away. The cordless spring system—one that actually works—is offered too. Corded roller shades are becoming a thing of the past.
My husband didn't think much of the PowerTouch…until he used it!!! Here's a picture of the roller shades in his man-cave.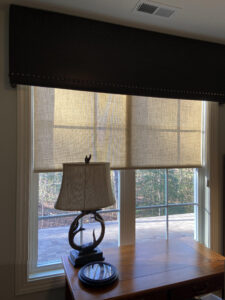 Standard roller shades come with a roll at the top of the shade where the fabric is visible. I call that a naked headrail. Another option is adding a cassette headrail covered in the same fabric or an accent finish. The headrail will conceal the top of the roller shade, giving the shade a much cleaner look.
Below is a picture of a roller shade with room darkening lining and a cassette headrail. My client sent me feedback, saying, "Thank you again. The shades look amazing. The color is perfect. They give my family room and breakfast area a whole new look." Isn't her dog on the couch adorable?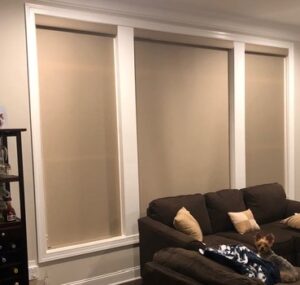 Below is an example of a "naked" headrail without that cassette head rail. See the roller at the top? This is a light filtering shade. I love how you can see shadows through the shade.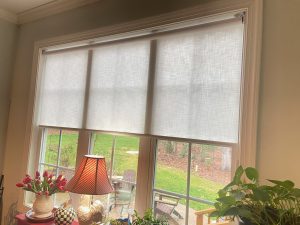 One of my clients had such an amazing view she didn't want to cover it up!  Who would!  But, she also wanted to be able to close the shades for privacy and security at night, or when they weren't home. The shades needed to blend in with the walls and windows, and have a decorative accent. She chose the banding pattern below in a custom color to match her fireplace stone and went with the power wand operation and a cassette headrail.

This is one of my favorite projects, which highlights the "evolution" of my client's window treatments. First, we dressed her "naked" living room windows with tied back panels in a beautiful flower print. But as time went on, she realized she needed something on her windows that would provide a little privacy and light control to help with the afternoon sun. The perfect solution was to add motorized roller shades with a rechargeable battery. The shade she chose had colors that coordinated with her drapery fabric and really makes the room look inviting.

With all the colors and textures available, shades can be anything you want! This homeowner wanted something bold in her kitchen. She selected the size and color of the red stripe shades below. Truly custom. She needed the shades to help keep the cold draft out in the winter. When the shade is up all the way, you don't even know it's there.

Here's what that client had to say: "My new cordless roller shades from Ronica's Custom Creations are perfect for my tiny white kitchen. Ronica helped me select a wide horizontal RED stripe that adds the right pop! Working with Ronica was a seamless experience. The shades are so simple to operate that no instructions were needed. With a gentle tug, the shades roll up automatically. In the winter, I pull them down every night to maintain the heat from the glass, and open them up again in the morning to enjoy the birds at my feeder. Roller shades are great because while they offer total privacy, they also disappear like magic when you want a full view of the outdoors. They are perfect for mid-century modern homes where walls of windows beckon unobstructed glass."
One of my favorite vendors is Comfortex and I love their roller shades. The first photo below features the PowerTouch operation—a wonderful choice. It's so easy to use and it's rechargeable. Their shades have a wide variety of textures available too. The second picture features the cordless option. I love the clean look of a cordless.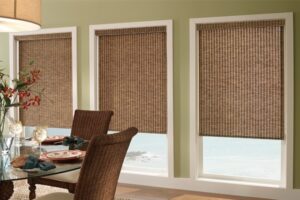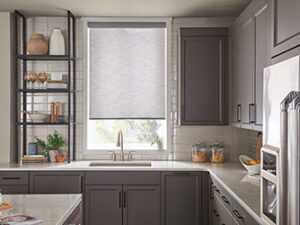 There are some great examples of Comfortex roller shades on my website.  
And here on my website.
Some cool stuff!  What speaks to you?  
I hope you have a lot of ideas for roller shades in your home now! I can give you even more. Give me a call: (919)819-7873.