I hope you had a chance to look through my January Magazine –The Ultimate Guide to Window Treatments. It had all the basics to help you choose what treatments will work best in your home. 
The Guide is a great piece to print (or file digitally) and save for future reference! Do you have an idea file, like me? It's fun to pull it out for inspiration on a dreary day. I have tons of ideas on my Pinterest page. 
And to give you even more inspiration, all this year I'm going to dive a little deeper into each of the window treatments and share some examples of how my clients have used them. This month I'm concentrating on Roman Shades, which are extremely stylish and functional, and one of the most popular window treatments.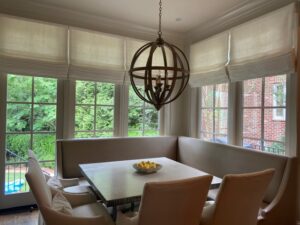 Roman Shades are a fabric window covering that come in a variety of folding or pleating styles and can be mounted on the inside or outside of your window frame. Because they're so customizable, they can be used to really draw attention to the room, or even to blend in with the room.
One of my client's found a beautiful roll of fabric in her husband's grandmother's attic when they were cleaning out her house after she passed away. The fabric was perfect for my client's new home and she loved the idea of having a keepsake. We used some of the fabric for a Roman Shade in a bedroom, along with matching pillows. 

You might not have thought of this, but Roman Shades are a great solution for bathrooms with frosted glass block windows. Those glass blocks provide privacy, but the light streaming through the glass can produce a bad glare that makes it difficult to see when applying your makeup or doing your hair.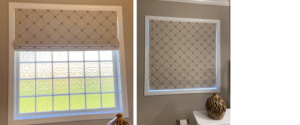 Roman shades are also great for doors. The Roman Shade in the picture below matches the faux valances in the adjoining rooms.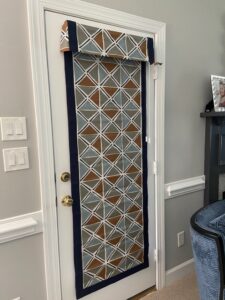 Here are some questions my clients have asked about Roman Shades:
Can they be blackout lined? Yes, blackout lining or light filtering lining can be added. Blackout lining is great when you have a pesky street light shining into your bedroom window.  
Can they be motorized?  Yes, we recommend either motorized or cordless. Motorized is great for those tall windows that are hard to reach at the top. Cordless and motorized are a cleaner look – and safer for small children and pets.
Can trim be added to Roman Shades? Absolutely! Trim and/or a contrast fabric really help make your Roman Shades stand out. Those special touches are like the icing on the cake!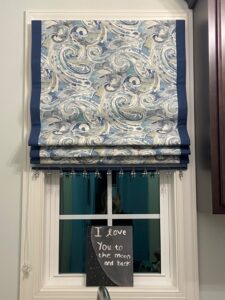 Are there different styles of Roman Shades? Yes – relaxed, straight, hobbled and faux roman shades.
Relaxed: The center of the shade is allowed to swag slightly. Isn't the trim on the relaxed shade below gorgeous?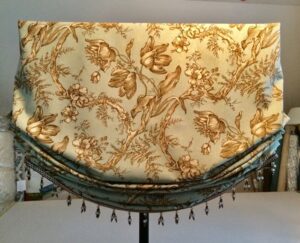 Straight: The shades hang straight, or flat, against the window when lowered and they fold into pleats when raised.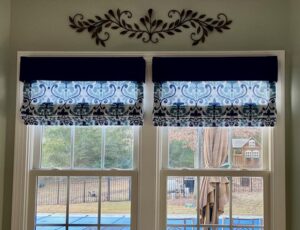 Hobbled: Rather than hanging flat when lowered, Hobbled Roman Shades keep their pleats, or hobbles.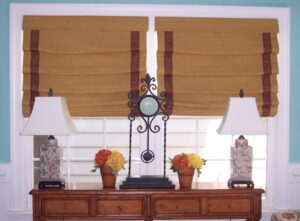 Faux: They are purely decorative, like a valance, and can't be raised or lowered.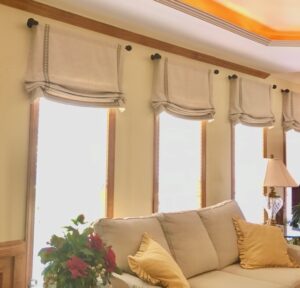 Do you have even more questions now? I'd be happy to answer them. You know where to find me.